Description
ONE PC- PERPETUAL LICENSE
ONYX 19
new SparkEngine engine New algorithms increase the ripping speed by up to 400%, which translates into a suspension of print yields of up to 200%. New rendering technology increases "Step and Repeat" performance by up to 600%.
DeviceLink+ It allows for quick and effective changes of output profiles without the need to read new samples and use a spectrophotometer.
new stochastic rasters Three new stochastic rasters will allow you to get even better results depending on the type of graphics you are printing.
ONYX 19 – NEW COLOUR POSSIBILITIES
ColorCheck's™ new approach to RIP process control that allows customers to guarantee color accuracy and also ensures consistency of prints on multiple devices at different times
ColorCheck™ also ensures compliance with standards including G7 and Fogra
ONYX Color™ industry-leading motor, generates improved black ink combinations for better dark areas, shadows and gray solid areas
increased saturation of red and orange without compromising ink savings
ONYX 19 is the first solution compatible with iccMAX, which is the new standard recommended by the ICC for all wide-format and large-format applications, advertising and textile graphics
PosterColor 2.0, a technology first introduced to the industry by Onyx Graphics, uses an intelligent rendering method to increase the saturation of uniform areas (apli)
ONYX 19 – THE NEXT LEVEL OF POWER AND RELIABILITY
APPE 4.8 (Adobe PDF Print Engine) accelerates file processing with super-fast rendering algorithms, resulting in significant performance gains not previously available
APPE 4.8 supports spot colors with up to 127 channels that can be specified and used in any file type
Accuboost, a new feature in onYX 19, is an innovative ICC profiling technique for "laboratory" accuracy of ICC profiles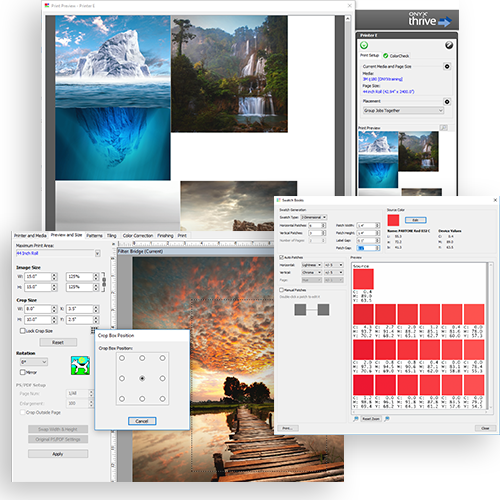 ONYX 19 – DYNAMIC PRODUCTIVITY TOOLS
New dynamic tools to improve printing performance, including:

Swatchbook quick search function
Swatchbook and support for special inks, including white and metallic for printing on any material
easy positioning of files during work preparation

The Step and Repeat feature is now available in ONYX Thrive, allowing users to create templates with all types of images for a variety of printing applications, including the printing and cutting process.
Larger nesting previews visible before printing